The game - Yu-Gi-Oh! GX Tag Force 3 - PlayStation Portable | PSP
750 games PlayStation Portable



---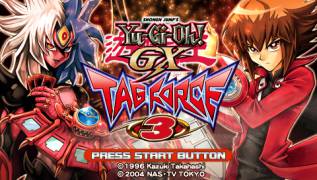 Yu-Gi-Oh! GX Tag Force 3
PlayStation Portable - PSP
Card battles on portable consoles have never known such intensity of passions! Yu Gi Oh! Duel Monsters GX: Tag Force 3 is the most advanced entry in the series for the PSP to date. More than three and a half thousand cards allow you to build unimaginable combinations and defeat your opponents in a variety of ways.
The game takes place in the universe of the popular television series Yu-Gi-Oh! GX and are based on the third and fourth seasons. You will meet familiar characters and be able to take part in epic magical battles and exciting, unpredictable adventures with them. An impressive deck of cards provides a rich selection of traps, monsters and spells, so you won't be bored in this fantastic war.
Another part of Konami's hit card game based on the famous anime, here are the main differences and innovations:
Contains 3501 cards (the largest number of cards of any released Yu-Gi-Oh! game).
Almost all cards up to and including the Crossroads of Chaos set, plus some cards from the Duel Terminal set.
Synchro Monsters from Yu-Gi-Oh! 5D's.
Uses official Yu-Gi-Oh! rules, as well as March 2008 ban lists.
Significantly improved enemy AI.
When using UMD Recognition with early Yu-Gi-Oh! new features become available (read additional info).
Lots of playable characters, including those from the first season of the anime (Yugi, Kaiba, Joey) that you can take as partners when playing Tag Duels.
---
GAME INFO
---
Game name:
Yu-Gi-Oh! GX Tag Force 3
Platform:
PlayStation Portable (PSP)
---