The game - Burnout Dominator - PlayStation Portable | PSP
750 games PlayStation Portable



---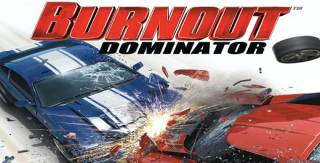 Burnout Dominator
PlayStation Portable - PSP
There has always been only one rule on the roads of Burnout - the strongest wins! Burnout Dominator even more clearly demonstrates the superiority of strength and arrogance over polite weakness. Fellow driver not giving way? So throw him into a ditch, push him into the oncoming lane, ram his clunker, finally! The new episode of Burnout is a great way to blow off steam. Throw out all your irritability on virtual rivals - and let them die beautifully.
Burnout Dominator has incorporated the best modes from all previous episodes! Love speed? That way! Fireballs with jet acceleration in a matter of seconds "put" speedometer needles - asphalt melts under their tires. Crave destruction? You again did not make a mistake with the address! Burnout Dominator is the most spectacular and large-scale car crash in the history of the series. Dozens of vehicles are involved in accidents, from blows flying into small fragments. You will have to fight for life and victory.
Ride the world! Dozens of tracks are waiting for you for every taste: straight and wide for lovers of high speeds and relatively fair driving; narrow and winding for connoisseurs of stunt, aggressive racing.
Entertainment for every taste! Everyone will find something for themselves here - fast-paced competitions in speed, a competition for the "best" accident and much more.
The routes are full of surprises. Watch out for hint icons - some fences and walls can be pierced through. But don't do it yourself: don't ruin your car on concrete. Much more fun to make a hole with the help of an unlucky opponent, and then take a shortcut through the gap.
All cars are great! You will not find two identical cars - each of them has its own advantages and disadvantages. Winning dangerous competitions, you will collect a complete collection of unique cars.
Find out who is the best racer in your company! Connect two PSPs and arrange action-packed competitions. You can drive while at home, in the yard, on the subway, or even at lectures at the university!
Beat all records! With the help of a special function, you and a friend can exchange records in order to defeat each other "in absentia". Compete even when there are tens and hundreds of kilometers between you!
The end is not the end. Having won on all the tracks, do not rush to drive the car into the garage. The collection of routes on the PSP can be replenished by regularly downloading additional tracks.
---
GAME INFO
---
Game name:
Burnout Dominator
Platform:
PlayStation Portable (PSP)
Developer:
Criterion Games
Publisher:
Electronic Arts
---