Game description Ace Combat X: Skies of Deception - PlayStation Portable (PSP)
In the base 750 games PlayStation Portable



---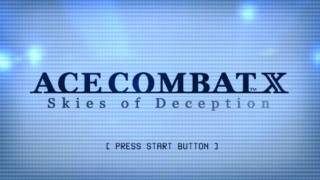 Ace Combat X: Skies of Deception
PlayStation Portable - PSP
From time immemorial Oreliya and Lisat were at enmity. Very few people remember the deep reasons of this conflict, but it was not possible to resolve contradictions to this day. Lisat decided on radical measures: its troops crossed border and went pryamik to the capital of the neighboring power. But if exorcized guns, Oreliya will be what to answer, its Air Force is famous for unsurpassed skill of pilots. Do not soil faultless reputation of oreliysky pilots!
the Ace Combat Series made by
to itself a reputation on PlayStation 2, however the portable game system receives the episode of the aviafighter for the first time. Even if you are well familiar with the previous parts of Ace Combat, new Ace Combat X: Skies of Deception will become the real revelation! It is absolutely independent, unique project debuting exclusively on PSP. Do not miss the loudest event in a genre!
---
GAME INFO
---
Game name:
Ace Combat X: Skies of Deception
Platform:
PlayStation Portable (PSP)
Developer:
Namco Bandai Games
Publisher:
Namco Bandai Games
---