Game description Buzz!: Brain Bender - PlayStation Portable (PSP)
In the base 750 games PlayStation Portable



---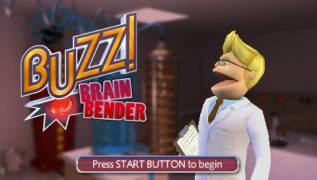 Buzz!: Brain Bender
PlayStation Portable - PSP
Buzz project!: Brain Bender for PSP opened in the Buzz series! new direction. You will not meet questions on the general erudition here; in 12 tasks yours for a while will undergo check observation, memory, the analysis and the account.
Four games of observation demand ability to thinly notice details. For example, in Shape Spotter it is necessary to recognize an object by its silhouette. About four alternatives from which it is necessary to make a choice by means of the operating PSP system buttons will be offered to you. At first everything is rather simple: it is necessary to learn only one silhouette and to choose an object from two options, but tasks will quickly become complicated, and you already should learn several silhouettes moving on the screen.
of the Game for memory check your ability to remember forms and numbers. For example, in Puzzle Pieces the picture riddle will be shown you, then from it one fragment will be removed, and you should define what. And again: the fact that at first it seems self-evident soon will become devilishly difficult as the quantity of fragments will increase.
to
In analytical games from you will need bystry conclusions from the available information and strong logic. So, in Path Finder it is necessary to define what of four heroes who are in the different ends of a labyrinth holds a right way to the center. Games into the account are more based on mathematics. For example, in Blot Swot it is necessary to you in the offered equation to reveal missing number or a mathematical symbol.
While tasks vary from very easy to extremely serious, especially in the mode of the increased complexity, the main difficulty in Buzz!: Brain Bender is a countdown of time. Playing the game for a while adds tension, especially if you fight for good result and for one of bronze, silver or gold medals of a game. Speed of fingers is not less important, than speed of a thought.
One of remarkable functions of a game consists in an opportunity to see the progress on graphics. In the Training mode you can pass any of games in own speed. All your results remain so you can bring them in the schedule and draw a conclusion in what of four areas you are strongest. Also you can pass Test where games are given in any order and at the end the general result is removed. Having won enough medals in the Training mode, you pass to a complex of the tasks varying from passing of all analytical games to the solution of the maximum quantity of tasks for observation in 20 seconds.
These tasks make all salt of the dynamic, fascinating game Buzz!: Brain Bender, ideal for PSP. The most long task lasts four minutes so you can manage to play several games, expecting the bus or the tram. And the wide range of degrees of complexity and emphasis on progress, but not on excess of the best results, says that it is a game for all age.
---
GAME INFO
---
Game name:
Buzz!: Brain Bender
Platform:
PlayStation Portable (PSP)
Developer:
Relentless Software
---