The game - Buzz!: Quiz World - PlayStation Portable | PSP
750 games PlayStation Portable



---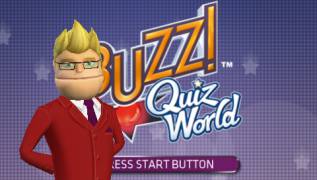 Buzz!: Quiz World
PlayStation Portable - PSP
Play Buzz! always and everywhere. Buzz!: Quiz World adds to Buzz! There are tons of new features on the PSP: a unique hotspot mode, amazing co-op and turn-based co-op modes, improved individual mode, even more questions and rounds.
Now in individual mode you will find not only thousands of general knowledge questions, but also millions of MyBuzz! quizzes created by Buzz! players. You can also download quiz add-ons from the PlayStation Store or play four-player online multiplayer.
This is an improved version of the quiz, designed specifically for the PSP.
---
GAME INFO
---
Game name:
Buzz!: Quiz World
Platform:
PlayStation Portable (PSP)
---