The game - Cabela's African Safari - PlayStation Portable | PSP
750 games PlayStation Portable



---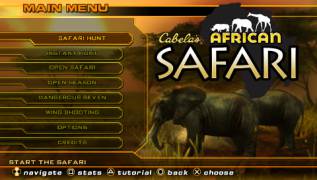 Cabela's African Safari
PlayStation Portable - PSP
Welcome to Africa. You will have an exciting safari across the African continent as a hunter. You have to visit South Africa, Namibia, Botswana, Mozambique and Zimbabwe. You will meet about 30 species of animals that you will have the opportunity to hunt. As a weapon, you can use both sniper rifles and shotguns.
If you don't have time to go to Africa to hunt - it doesn't matter, in this game you can fill this gap in your hunting biography and hunt down and shoot a lot of representatives of the African fauna. This African hunting shooter offers a choice of over 50 locations, 40 species of animals (including birds), 5 African countries, as well as a wide arsenal of large-caliber weapons.
In Cabela's African Safari , players choose 1 of 14 day safari activities, including: open safari, game tracing, bait and herd, search missions.
The game features over 30 exotic animal species including sable, kudu, bull deer, water buffalo, etc. And also in the game there is a bird hunting mode!
---
GAME INFO
---
Game name:
Cabela's African Safari
Platform:
PlayStation Portable (PSP)
Developer:
Activision Value
Publisher:
Activision Value
---