The game - Cabela's Dangerous Hunts: Ultimate Challenge - PlayStation Portable | PSP
750 games PlayStation Portable



---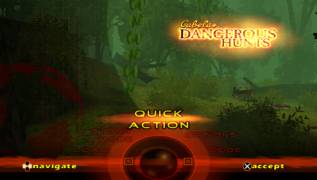 Cabela's Dangerous Hunts: Ultimate Challenge
PlayStation Portable - PSP
Cabela's Dangerous Hunts: Ultimate Challenge is an extreme hunting simulator that will take you to the most exotic corners of our planet. In the game, you will have the opportunity to hunt the most dangerous animals in the world: grizzly bears, leopards, rhinos, bison and many others, which you have to track down on the sands of hot savannahs and among tropical palm trees. Hunting such aggressive animals is deadly! Over time, you will understand the most important rule of the hunter - "Kill or be killed."
Features of Cabela's Dangerous Hunts: Ultimate Challenge:
- 27 extremely dangerous and aggressive animals;
- 12 exotic places for hunting;
- 3 types of main game;
- Thousands of varieties and types of hunting ammunition and equipment: 11 rifles, 3 guns, 2 bows, a crossbow, 3 types of hunting knives, 4 different types of optical sights and much more.
---
GAME INFO
---
Game name:
Cabela's Dangerous Hunts: Ultimate Challenge
Platform:
PlayStation Portable (PSP)
---