Game description Call of Duty: Roads to Victory - PlayStation Portable (PSP)
In the base 750 games PlayStation Portable



---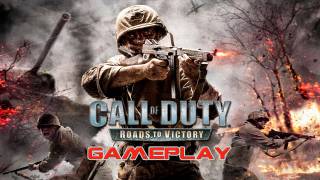 Call of Duty: Roads to Victory
PlayStation Portable - PSP
Among the infinite number of games about World War II the Call of Duty series deservedly takes a place of honor. Now cinematic scenes of grandiose battles, confidential operations in the back of the enemy and large-scale fights on ruins of the European cities appeared on PSP. For the first time you have a chance to plunge into the atmosphere of the fortieth regardless of where you are.
War goes on all fronts, and prior to a treasured victory still far. Fascist Germany threw huge forces on just opened second front. It is necessary allies hardly. The best groups of Wehrmacht go west a victorious march, occupying all new and new territories. You should operate serially absolutely different heroes battling for one right cause. Ordinary 82nd Landing division, shooter of the First Canadian army and elite fighter of the British Parachute regiment & mdash; they to three had hard test. Join and show them a way to a victory!
Rest only dreams them. Three long campaigns Call of Duty: Roads to Victory consist only of the new tasks developed especially for PSP. You should face fierce resistance of fascists in thirteen fascinating episodes.
War does not suffer delay. Being under heavy fire, you should not be confused in buttons. Developers took care of that the player quickly and accurately reacted to changes of a situation. To sit down on hunkers, to throw the grenade or to take aim at the enemy & mdash; any operation is performed intuitively.
to Survive. In Call of Duty: Roads to Victory you will get to the scorching heat more than once. Machine-gun firefights, sniper fire and unexpected air raids & mdash; feel the atmosphere of real war!
Open all secrets. Call of Duty: Roads to Victory can be passed again and again. Every time you will receive additional weapon, transport and other pleasant bonuses.
Collective fights. Gather with friends and give to fascists a good dressing-down! The well-known modes of the collective game Deathmatch, Capture the Flag and King of the Hill allow simultaneous participation of six players!
---
GAME INFO
---
Game name:
Call of Duty: Roads to Victory
Platform:
PlayStation Portable (PSP)
Developer:
Amaze Entertainment
---