Game description Capcom Classics Collection Reloaded - PlayStation Portable (PSP)
In the base 750 games PlayStation Portable



---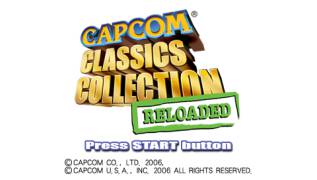 Capcom Classics Collection Reloaded
PlayStation Portable - PSP
More than 15 classical arcadian games entered this selection of prefixal hits from Capcom. Capcom Classics Collection Reloaded offers an excellent way of pastime in a single or network game with your friends.
the next classical games entered a selection:
Street Fighter II;
1942;
1943;
1943: Midway Kaisen;
Ghosts & #39; N Goblins;
Super Ghouls & #39; N Ghosts;
Commando;
Mercs;
Son Son;
Vulgus;
Higemaru;
Exed Exes;
Gun.Smoke;
The King of Dragons;
Knights of the Round;
Eco Fighters.
---
GAME INFO
---
Game name:
Capcom Classics Collection Reloaded
Platform:
PlayStation Portable (PSP)
---