Capcom Play System 1 - собрание игр на букву D
In the base 33 games Capcom Play System 1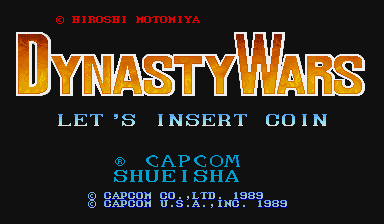 Dynasty War is a side-scrolling beat 'em up arcade game released in 1989 by Kapcom, based on the Japanese manga Tenchi Mount Kurau and a reenactment of the battle between the Shu kingdom and th.
---
Capcom Play System 1 (CPS1)
The Capcom Play System 1 (CPS1) is a slot machine from Capcom that debuted in 1988. The main hits of this system are: King Of Dragons, Knights Of The Round, Three Wonders, Captain Commando, The Punisher, Saturday Night Slam Masters, Final Fight, Cadillacs And Dinosaurs, Warriors Of Fate and, of course, Street Fighter II - The World Warrior , which became the hallmark of Capcom and the characters that still live in the sequels of this immortal game.
Specifications:
Main processor: Motorola 68000 @ 10.0 MHz Co-processor
: ZiLOG Z 80 @ 4 MHz
Sound chip: Yamaha YM 2151 @ 3.57958 MHz + OKI MSM 6295 @ 7.576 kHz or Q - Sound @ 4 MHz
Number of colors: 4096
Resolution: 384/ 224
---