750 games PlayStation Portable



---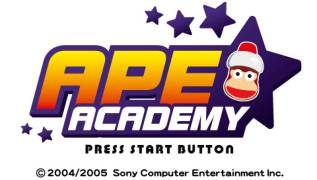 Ape Escape Academy
Have you ever wondered why monkeys are so funny, fast and agile? Do you think it's in their blood? But no! In order to become a real Monkey, it is not enough to be born with it. Antics and jumps need to be learned - long and hard. What did you think?! Exactly! Do you want to try your hand at this difficult task? Well ... Then you have to go through difficult, but exciting and interesting training courses at the Monkey Academy.
Ape Escape is a collection of 45 fun mini-games. Jump and sing in a bad voice to the beat of the music and the orders of the teacher, dance around the fire to the "Kalinka-Malinka" and French chanson, play "king of the hill", fight with classmates, run, jump and throw bananas ... And this is not a complete list of all "training courses"!
Multiplayer mode is supported - up to 4 players simultaneously via Wi-Fi. You can arrange competitions on one PSP, playing in turn.
The game was developed by the creators of the famous Ape Escape game series. Math, geography and physics textbooks go out the window - you'll have to earn A's by fighting scary zombies and experiencing other unforgettable adventures. All mini-games are designed specifically for a quick "run-and-run" game. Treat yourself: go to the world of monkeys, full of humor, hooligan antics and fun. Finish the Academy with honors and become a real Monkey!
---
GAME INFO
---
Game Name:
Ape Escape Academy
Platform:
PlayStation Portable (PSP)
Publisher:
SCEI/SCEE/SCEA