750 games PlayStation Portable



---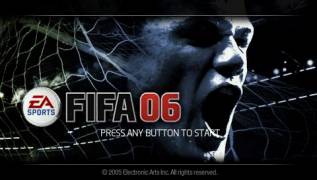 FIFA 06
The stands are roaring, people are shouting something in front of the TVs, completely forgetting that no one can hear them on the other side of the screen, huge queues line up in front of the stadium box office. Football is perhaps the most scandalous sport. Violent passions always boil around him, they raise some to the pinnacle of fame and fortune, others are thrown to the bottom. FIFA 06 is your chance to be at the center of events and even influence them. The game copies live football as much as possible. In the virtual world, 21 real-life Leagues and 10,000 real players have found their reflection. A variety of statistics, with which FIFA 06 abounds, correspond to the indicators of the 2005-2006 season, there is simply nowhere to be fresh.
Are you ready to shoulder responsibility for your own football club? Do you want to enter the field yourself and, finally, get even with the Japanese? FIFA 06 will make dreams come true.
Ronaldino is resting! The new control system allows even players who are far from real football to surpass the most famous football players in the world on the field. EA has gone to great lengths to make the virtuoso strokes easy enough to perform.
Do you want to buy your own club? Please! Stand at the head of a football team, shouldering the entire burden of responsibility for its success. It is you who should take care of the well-being of the club, because without money it is impossible to update the star line-up, and the players already invited to the team will turn sour without a salary. Funding will come from advertising sponsors, from the sale of tickets and souvenirs for fans.
Football for every taste! Three new editors - Create-A-Player, My FIFA and Team Management - allow you to transform the world of football in the game as you have long dreamed of. Create-A-Player puts all your ideas of the perfect player into one player. You have power over both the appearance and the professional skills of the star. With the help of My FIFA and Team Management, in addition to the perfect player, the perfect team will also be born.
What is football without other players? In the collective mode, up to three people can measure their strength, and big football fans are invited to the FIFA Interactive World Cup. There, among the virtual football players of the whole planet, you will surely find worthy rivals.
---
GAME INFO
---
Platform:
PlayStation Portable (PSP)