750 games PlayStation Portable



---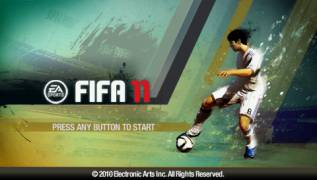 FIFA 11
FIFA 11 introduces the Personalization+ system, which recreates the look and feel of players with or without the ball anywhere on the pitch based on the individual skills of real players. The system determines the differences between athletes based on a database that contains information about 36 parameters and 57 individual traits of each of them. 1,700 observers from around the world were involved in the work on this base.
Thanks to the same system, the style of real prototype goalkeepers is reproduced in the game. Jump statistics determine the ability of goalkeepers to intercept long-range balls, information about reflexes determines the reaction speed. All this will allow masters such as Chelsea's Peter Cech to showcase world-class football.
A series of new tweaks will help players customize FIFA 11 to suit their own preferences. The Creation Center online service lets you create players and teams and then share them with your friends.
Rosgosstrakh Championship of Russia.
Following the PC version, the Russian Championship appears on consoles. All 16 clubs of the Russian Premier League, enchanting derby "Spartak" (Moscow) - CSKA; Zenit in the Champions League; CSKA is the winner of the Europa League - all this is now possible!
Become a goalkeeper.
For the first time in the history of football simulations, the player can take on the role of a goalkeeper: taking control of a specific footballer, directing the game from the most difficult position on the field, participating in 11 vs 11 matches - both in single player and in online competitions.
"Personalization +" and celebrations.
The Celebrations 2.0 system will allow you to adequately celebrate important gaming events.
Propass system.
Now the accuracy of the transfer will depend on the mastery of the controller, as well as on the skills of the virtual football player and the situation on the field. Wrong decisions, too strong or weak blows - all this can lead to disastrous results. New types of passes, such as the evasive feint, will make the game more efficient and successful.
Creative center.
Through this online service, players can create football players with unique characteristics and appearance and teams with their own uniforms and symbols, and then share them with friends, as well as use them to participate in online matches and championships. The created football players can also be played in the Arena and in career modes.
Career mode.
The new software technology provides a faithful reflection in the game of real life. You can start by choosing a virtual football player, the prototype of which was a real athlete, or created in the "Creative Center". You can become a player-manager or just a manager who has 15 years of professional career ahead of him. In addition, FIFA 11 features a realistic league structure and results, as well as a calendar that is constantly updated. Team Leadership makes it easy to compare players, while a leaderboard lets you compare stats and achievements.
---
GAME INFO
---
Platform:
PlayStation Portable (PSP)