750 games PlayStation Portable



---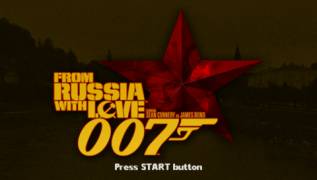 From Russia With Love
Expensive cars, beautiful women and charming supervillains who do not miss the chance to share their insidious plans with the world - Bond is famous for all this. However, spy blockbusters are nothing without Sean Connery and his hero - Bond agent, James Bond. Charming boyfriend, ardent lover, fearless scout, he won the hearts of a wide variety of viewers around the world. It's the turn of the players.Electronic Arts presents a spy thriller in the best traditions of Hollywood cinema. Hundreds of ingenious gadgets and dozens of luxury cars are waiting for you. The most beautiful heartbreakers will not resist you, and the enemies will make every effort to take you out of the game. Chases, shootouts, grave cold of death and a bright flame of burning passion. Is it possible to refuse this?
Create your one and only Bond. The appearance of Sean Connery is unchanged, but the developers are ready to entrust everything else to you personally. A virtual spy can be dressed up, equipped with various devices and, finally, trained. The experience gained is not wasted, but, as in real RPGs, it is used to improve the skills of "zero-zero-seventh".
Outside the window, the 60s are blooming ... The flavor of the "Bond era" is recreated in the game to the smallest detail. Architecture, cars, fashion plunge you into the wonderful world of forty years ago, so naive and romantic at the same time. A "business trip" to the Soviet Union is a unique opportunity to look at the USSR through the eyes of a foreign spy.
Diversity is the key to success. The gameplay of From Russia with Love is based on diversity. Non-linear missions, mini-games with spy equipment, risky firefights, covert operations "deep in the rear" and dizzying chases in retro cars are waiting for you!
From Russia with Love is a unique opportunity to visit the cinema. A number of game tasks reproduce episodes of the classic Bond.
Bond is not alone . Various modes of collective play are a direct confirmation of this.
---
GAME INFO
---
Game Name:
From Russia With Love
Platform:
PlayStation Portable (PSP)
Developer:
Rebellion Developments
Publisher:
Electronic Arts