750 games PlayStation Portable



---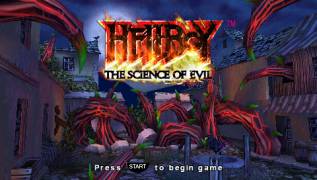 Hellboy: The Science of Evil
The famous comic book hero Hellboy never fit the traditional description of the savior of the world. A Hollywood smile, a seductive look and diamond cufflinks in addition to a luxurious car - all this is useless when horns crown the head, and a one and a half meter tail peeks out from under the cloak. But a frightening appearance and a nasty character only play into the hands of those who have dedicated their lives to the fight against the forces of Darkness. The demon, who grew up among people, continues the war with his former brothers, and this time you have to take his side!
The exciting story of the game is based on the events of the comic book of the same name, in which Hellboy must stop the Nazis before they release the ancient Evil. To prevent the villains, the fearless demon and his two friends - Abe Sapain and Liz Sherman - go on a dangerous journey. Ahead of them is a battle with German fanatics and their leader Hermann von Klempt, as well as a meeting with minions of Satan. The decisive battle for the fate of the planet is approaching, and its outcome depends on you!
Born in hell The past of the hero does not allow to forget about himself for a minute. Hellboy was a demon, and the evil inclination strives to turn him into his slave again. What will be stronger - good or evil, will be known only to those who get to the last chapter of this exciting story.
In battle, every little thing will come in handy! There are too many enemies even for a tough guy like Hellboy! To win, you will have to use all your cunning and resourcefulness. Avoid open confrontations and take advantage of the environment - for example, you can throw improvised objects at enemies: beams, poles, and even other opponents!
The gifts of the underworld. The protagonist has supernatural powers and uses them with pleasure against his former brothers. Summon controlled monsters, the Right Hand of Death and other gifts of the Dark Lord will turn against his own troops!
The hero has allies! In the multiplayer game, in addition to Hellboy, two more characters are available. Abe Sapain and Liz Sherman will side with Hellboy and help him save the world from destruction.
---
GAME INFO
---
Game Name:
Hellboy: The Science of Evil
Platform:
PlayStation Portable (PSP)