750 games PlayStation Portable



---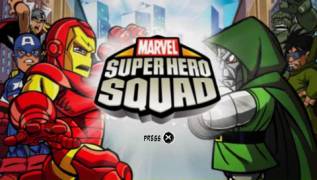 Marvel Super Hero Squad
The universe is under threat! Doctor Doom and his Deadly Legion decided to find all the Infinity Fractals in order to collect the legendary Infinity Sword from them and unleash its power on the defenders of goodness and justice. Whom to support in a fatal clash is up to you. The Marvel Super Hero Squad brings together the greatest heroes and most insidious villains of Marvel comics, and each of them can become your character. Captain America, Doctor Doom, Hulk, Iron Man, Silver Surfer, Thor, Wolverine - choose from over two dozen famous warriors. Which side you choose to take will determine the fate of the world!
Each hero is unique, and in addition, Infinity Fractals give him special abilities, through which you can even change the rules of the game! By building combinations of devastating blows, you have to make your way through the ranks of opponents and reach your goal, whatever it may be. The adventure game-torrento.org mode features six exciting story campaigns that will allow you to plunge headlong into the world of colorful comics. Also at your service is a combat mode, where you can forget about the scenario and just measure your strength with other heroes. Find out which Marvel comics character is the strongest of all!
famous heroes and villains. The game features over 20 characters from Marvel comics, including Captain America, Hulk, Iron Man and Wolverine. Everyone has their own unique abilities!
An unforgettable adventure. Six story campaigns will reveal to you the secrets of the drawn universe and introduce you to six bright characters: Wolverine, Hulk, Thor, Iron Man, Silver Surfer and Falcon.
Additional scenarios. In addition to the existing companies, you can open two additional - with Spider-Man and Doctor Doom in the lead roles.
Gain fractal power. Look for Infinity Fractals to give your character unheard of powers.
Join forces. You can fight enemies to save the City of Superheroes in the company of true friends who will lend a helping hand in battle.
Reveal everything that is hidden! Get access to additional characters, costumes and arenas.
Great duels. Fight each other in the arenas, controlling any hero or villain you like.
The art of combat. Build combinations of devastating blows, use the special abilities of your characters and take advantage of the terrain. If you look around carefully, you can find a lot of useful and interesting things!
Fights for four. Arrange collective battles with the participation of four players at once. Fight on the principle of "every man for himself", two on two or even three on one!
---
GAME INFO
---
Game Name:
Marvel Super Hero Squad
Platform:
PlayStation Portable (PSP)