750 games PlayStation Portable



---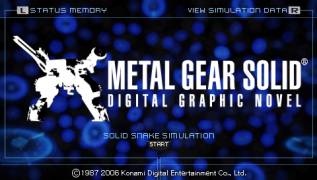 Metal Gear Solid: Digital Graphic
Are you a big fan of the Metal Gear series? Are you ready to repeat Snake's hard way again and again, getting to the bottom of the smallest details of the scenario? Then Metal Gear Solid: Digital Graphic Novel is just what you need. The plot of the virtual novel returns the reader to the distant past of the fearless saboteur. Using the PSP as an illustrated book with musical accompaniment, you will get to know your favorite character even better.
Metal Gear Solid: Digital Graphic Novel is presented as an entertaining comic book. Its advantages over paper publications are obvious: compactness, mobility, sound accompaniment, and the very form of presentation of the plot. This work of literary art, created with the help of the latest technologies, you can safely brag to your friends.
Say no to paper bookmarks! You no longer have to remember the page number and rummage through your pockets in search of an unnecessary piece of paper that can be used as a bookmark. In Metal Gear Solid: Digital Graphic Novel, special notes are provided: having done this, you will always return to the desired chapter by pressing one button.
The comic has sound! One of the main advantages of a virtual novel is musical accompaniment. The developers carefully selected the compositions in such a way that they corresponded to the general mood of the saga.
Pictures come to life on the screen! Even talentedly drawn characters on paper cannot be compared with living, moving characters of Metal Gear Solid: Digital Graphic Novel. The comic is replete with great animated scenes.
The masters of the genre worked on the virtual novel. Metal Gear Solid: Digital Graphic Novel was created by Chris Oprisko and Ashley Wood. Thanks to their participation, the project flaunts a unique style and accurately conveys the atmosphere of the games of the Metal Gear Solid series.
---
GAME INFO
---
Game Name:
Metal Gear Solid: Digital Graphic
Platform:
PlayStation Portable (PSP)
Developer:
Kojima Productions