750 games PlayStation Portable



---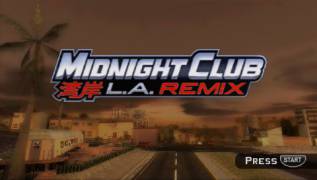 Midnight Club: L.A. Remix
The whole of Los Angeles has become a racing field: streets, highways, parking lots and lanes. You have to go from a beginner to the most famous racer in the city, gradually earning a reputation. Then you will be taken seriously, and you will have money to improve your car. And there is only one way to earn points - race, race and race again.
At your disposal are more than 40 types of cars and motorcycles in four different classes: Tuner, Luxury, Exotic and Muscle. Starting a race is very easy - just flash your headlights to other racers. In addition to regular races, there are Freeway Racer and Police Chases modes that will test your racing skills.
- Any standard car or bike can be given a unique personality and style. With the help of additional parts and devices, you can assemble an exclusive vehicle that will become your calling card.
- You don't have to wait for missions to load, keep track of stats, or follow rules. There is only speed and freedom.
- The game has many types of racing competitions, including Circuit Races, Unordered Races, Freeway Races, Time Trials, Tournaments, Red Light Racer, Series Races, Wager Races, Pinkslip Races, Delivery, Payback and Telephone Challenge. There are plenty to choose from.
- Police cars are more varied and faster than before. The police are constantly patrolling the streets of the city and are ready at any moment to stop illegal street races.
- In addition to the usual controls, you have four special functions at your disposal. With Zone, you can slow down time to make sharp turns or maneuver through heavy traffic. Agro will give your car more power and the ability to deal damage to rivals even faster or completely take them out of the race. Roar launches a wave that sweeps all other vehicles out of your path. EMP is an electromagnetic pulse that will turn off all engines in surrounding vehicles and force them to stop.
---
GAME INFO
---
Game Name:
Midnight Club: L.A. Remix
Platform:
PlayStation Portable (PSP)
Developer:
Rockstar London
Publisher:
Rockstar Games