750 games PlayStation Portable



---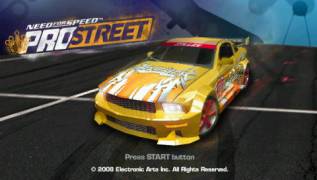 Need for Speed: ProStreet
The most expensive cars from all over the world, breathtaking tuning, xenon light and unrealistic speeds. Illegal racing has always attracted daredevils on the fastest masterpieces of the automotive industry. But over time, culture and fashion change. Fans of fast driving came out into the light and stopped hiding from the police: new competitions are officially held on special tracks in all parts of the world. The hobby of the "golden youth" has turned into an independent sport with its own rules, sponsors and champions.
The new part of the famous Need for Speed ​​​​series changes after the races themselves. No more hiding from the authorities and taking risks in illegal races. Now the most dangerous enemy is not the police, but cunning and swift rivals. They act aggressively and at any moment are ready to cut the opponent's car or push it into a ditch, turning it into a shapeless pile of iron. The era of immortal cars is over! Any four-wheeled horse can be smashed to smithereens: literally everything crumples and falls off - the hood, bumpers, spoilers, roof, fenders, windows and even wheels. ProStreet is not just another episode of the series, it is a new level of realism and entertainment available to everyone!
The damage model will teach caution. Beware of collisions with other cars and hitting concrete blocks. Otherwise, you risk turning a chrome-plated beauty into a pile of useless trash. You can break, crush or tear off any part. After each race, you will have to repair the car, choosing between replacing old parts or restoring them - after all, new ones cost a lot of money.
Improved tuning system. The slightest change in the appearance of the car affects its behavior. Reducing the angle of the spoiler or the height of the bumper affects the aerodynamic performance. A standard car can be turned into a rocket that develops space speeds, but it will not be easy to cope with it.
Fine tuning of the engine. The motor is paid no less attention than the external details. It can be carefully adjusted to achieve the desired effect. From now on, it is the "stuffing" under the hood, and not ostentatious delights, that is the most important part of the car.
Licensed car park. You will meet many cars from the most famous concerns. Among them are the BMW M3, Mazda RX-7, Toyota Corolla GTS AE86 and Nissan GT-4 Proto. The game features models from two dozen famous manufacturers.
---
GAME INFO
---
Game Name:
Need for Speed: ProStreet
Platform:
PlayStation Portable (PSP)
Publisher:
Electronic Arts