750 games PlayStation Portable



---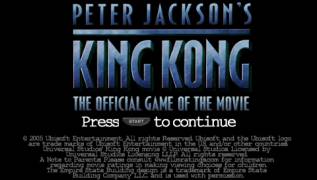 Peter Jackson's King Kong: The Official Game of the Movie
Based on the movie of the same name, Peter Jackson's King Kong game will reveal to you the mysterious and unknown world of Skull Island. The developers of Beyond Good and Evil and Splinter Cell have created an incredibly atmospheric game that is sure to please both adventurers and action-hungry players. Peter Jackson's King Kong is ready to offer not only impeccable graphics, but also new gameplay options that combine FPS, third-person action and fighting game elements: you will have to fight not only for actor Jack Driscoll, but also to be in the shoes of King Kong himself! Together with the rest of the heroes of this incredible adventure, you will visit the settlement of an indigenous tribe in the prehistoric jungle, worshiping a giant gorilla, and also explore the ruins of a city of an unknown civilization.
Features:
» Powerful 3D engine Jade, providing stunning graphics and unrivaled special effects.
» A rich arsenal based on real-life weapons. In addition, the player will be able to use more primitive weapons, such as spears and darts of savages.
» Unique gameplay that combines both first-person play as Jack Driscoll and third-person play as King Kong.
» A new masterpiece from Michel Ancel, creator of the Rayman and Beyond Good and Evil series.
» Unlike the regular edition, the Gamer's Edition is a port of the X-Box 360, not a simple X-Box. The game has HD textures, shaders of the 3rd version, etc.
---
GAME INFO
---
Game Name:
Peter Jackson's King Kong: The Official Game of the Movie
Platform:
PlayStation Portable (PSP)
Developer:
Phoenix Studio