750 games PlayStation Portable



---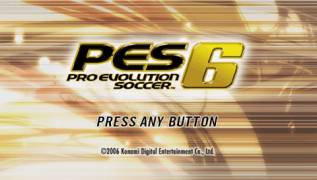 Pro Evolution Soccer 6
The course of real history cannot be rewritten, but you can create the past, present and future of virtual football. Pro Evolution Soccer 6 will serve as an indispensable tool in this difficult task. Grow your own team of champions and do your best to ensure that no cup passes the hall of fame of your club. Konami and the founder of the Pro Evolution Soccer series, Shingo Takatsuka, put not only their strength, but their very soul into the new project. Football players are now indistinguishable from their real prototypes - their appearance is so believable, their movements are smooth and their behavior is adequate. The sixth coming of Pro Evolution Soccer is accompanied by the most colorful passes, desperate attacks on the opponent's goal, excellent camera work, a riot of stands and a sea of ​​​​adrenaline spilled into the blood.
Champions League at your service! In Pro Evolution Soccer 6 you will find many of the most famous teams on the planet. Old acquaintances were joined by clubs from Sweden, Argentina, Italy, Spain and the Netherlands. And the number of less famous and advertised national teams is generally difficult to calculate.
Through hardship to the stars! You have to pass the test in the most intense football matches of our time. Fight against strong foreign teams in International tournaments, where a whole series of games separates your club from victory. Would you like to take a break from historically significant competitions? Choose "Random match" and chase balls at your pleasure with a randomly selected opponent. However, true glory will come only after winning the Master League, the top class championship!
Dance with the ball! Never before have the movements of virtual players been so smooth and believable. Football players make graceful passes, beautifully circle rivals and gracefully hit on goal. They don't run, they dance with the ball.
Play with your head! With the new artificial intelligence, meaningfulness has been added to the actions of the players. They do not run around the field randomly, but act according to the situation. The goalkeeper correctly calibrates his chances and tries to choose the most comfortable position. The phrase "heading" in Pro Evolution Soccer 6 takes on a whole new meaning. Football players do not just kick the ball, but do it consciously!
Collective game without wires! PSP owners can easily compete with each other on the subway, on the street or sitting in different rooms!
Don't miss a moment! The handheld version of Pro Evolution Soccer 6 features an advanced surveillance system. Even on a small screen, no important detail is hidden from your attention.
---
GAME INFO
---
Game Name:
Pro Evolution Soccer 6
Platform:
PlayStation Portable (PSP)