750 games PlayStation Portable



---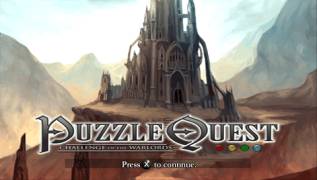 Puzzle Quest: Challenge of the Warlords
Puzzle Quest: Challenge of the Warlords is a unique blend of bubble puzzle, RPG and strategy from the creator of Warlords. The plot of the game and the characters also came to us from the universe of the cult game Warlords. The highest playability and variety put the project on one of the highest steps of the podium among "casual" games. Although such a Puzzle Quest can be called a stretch - there are too many elements from serious, big games in it.
In the game you will find yourself in the role of a hero traveling across a map of fabulous lands that need to be protected at the request of Her Majesty.
In fact, this is an ordinary match-3 game (for example, the game Lines), but framed in an extremely interesting and attractive quest shell with elements of strategy and RPG.
The game provides a lot of spells (some of which are researched in the mage tower in the citadel, some are obtained by the hero along with levels (each class of heroes has its own "profile" set of spells) or "stealed" from captured enemies). You can take only 6 spells with you to the "battle".
* Nearly endless choice of match-3 tactics thanks to a wide choice of spells and character skills
* An impressive arsenal of weapons, armor and magical artifacts
* Allied characters can serve well in battle.
* The ability to capture cities to receive tribute and enemies to gain benefits
* You can (and should) spend money on buying new artifacts and building your own citadel
The game should appeal both to fans of thoughtful (as in chess or the card game Magic The Gavering) gameplay, and fans of casual games like 7Wonders.
---
GAME INFO
---
Game Name:
Puzzle Quest: Challenge of the Warlords
Platform:
PlayStation Portable (PSP)
Developer:
Infinite Interactive