750 games PlayStation Portable



---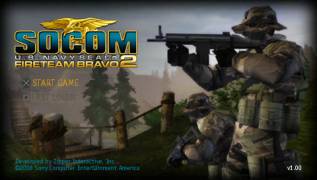 SOCOM: U.S. Navy SEALs Fireteam Bravo 2
There will always be work for the elite squad of fur seals.
Year after year, its fighters hunt down the most dangerous terrorists around the world, effortlessly crack down on militant armies and neutralize nuclear weapons. Victory always accompanies the fighters, no matter how difficult the task. With the best combat training in the world, the most modern weapons, tactical genius and unbending team spirit - the secret unit has everything that one of the strongest combat units of our time needs!
SOCOM US Navy SEALs: Fireteam Bravo 2 has plenty of surprises in store for fans. The non-linear scenario of the campaign, the original system of bonuses for completing tasks and the need to build relationships with civilians are nice innovations in the old scheme. The SEAL war has never been so exciting!
---
GAME INFO
---
Game Name:
SOCOM: U.S. Navy SEALs Fireteam Bravo 2
Platform:
PlayStation Portable (PSP)
Developer:
Zipper Interactive