750 games PlayStation Portable



---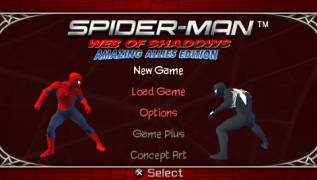 Spider-Man: Web of Shadows
A mysterious threat hangs over New York. Strange slime fills the streets of the metropolis, ordinary people turn into terrible monsters, life is slowly leaving the huge city. The only suspect is Venom. A terrible creature, an evil counterpart of Spider-Man, determined to become the sole owner of Manhattan. Only his "reflection" - Peter Parker himself - is able to withstand the impending danger. Chases, exciting fights, incredible jumps and flights on the web - all this awaits you in a new game about your favorite hero!
Peter's amazing abilities alone are not enough to withstand such a powerful enemy. In this battle, you need to use the same weapon as the enemy. Try the dark side of Spider-Man! The black suit seems to inject adrenaline into the blood, increases strength, gives a sense of superiority. One blow - and now the enemy is writhing in agony. But the line between good and evil is always fragile, in the fight for the lives of the townspeople you yourself risk turning into a product of horror and unaccountable rage. The key to your destiny is in your hands!
Features:
Absolute power.
For the sake of saving other people's lives, Peter Parker is ready to sacrifice his own. Not even hordes of terrible monsters can stop him. Hit the enemy against the wall, throw him into the air, crush him with a killing blow - dozens of moves are available to you!
Two ways.
This time, Spider-Man will have to rely on the strength of his sworn enemy - Venom. The red and black suits grant different abilities, both of which are necessary to win, but who knows what the end result will be? Will you sacrifice everything for the lives of others, or will you yourself join the powerful villains and subjugate the Big Apple?
The city that does not sleep.
New York is in full view. Huge metropolis with millions of inhabitants. Now it has turned into a real battlefield, and you have to fight for every street and every district.
Everything will fit.
In the battle with the legendary villains, everything that is at hand will come in handy. A car, a fragment of a wall, a concrete slab or a simple stone - any weighty object can be turned into a formidable weapon.
Star team.
Iconic Marvel comics heroes can become Spider-Man's friends or nemesis. Among them are Luke Cage and the Vulture - decide for yourself which camp to join.
electoral evolution.
As you progress towards the finals, reward points will allow you to create the hero of your dreams from Spider-Man. Improve only those qualities and abilities that you like!
---
GAME INFO
---
Game Name:
Spider-Man: Web of Shadows
Platform:
PlayStation Portable (PSP)