750 games PlayStation Portable



---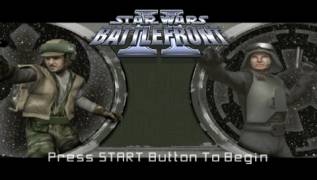 Star Wars: Battlefront II
The greatest fantasy saga of all time ended in movies, but lives on in games. The virtual world knows dozens of projects with the formidable Star Wars label, but one of the most successful incarnations of the fantastic universe of George Lucas is Star Wars: Battlefront. A huge choice of actions and an abundance of opportunities made the first part of the game a hit, but its continuation is torn into masterpieces!
Star Wars: Battlefront 2 proclaims even greater freedom! The war spilled out beyond individual planets. You fight not only in water and on land, but also in space. Starting a mission aboard your own cruiser, you have the right to choose any fighter and enter into a hot star battle. Nobody prevents you from boarding the enemy flagship and continuing the battle on your own two feet already in the corridors of the enemy colossus.
The history of Star Wars in one game. The single-player campaign of Star Wars: Battlefront 2 features missions and planets from all six Star Wars episodes. You will visit Princess Leia's cruiser from the fourth part of the film, get inside the Death Star, take part in the battle for Coruscant and many other significant events for the Star Wars universe.
May the Force be with you. Among the many playable characters are the Jedi Knights. They have invariable lightsabers and various psychic abilities in their arsenal.
Serve in any army. The game has four factions, six classes (one of them is a prize) and several heroes. You have the right to swear allegiance to the Rebels, the Empire, the Clone Army or the Droids.
A starship is not a luxury, but a means of transportation! At your service are more than thirty ground and air combat vehicles that appeared in different episodes of the epic movie.
Now one in the field is a warrior. The single player game consists of three modes: Instant Action, Galactic Conquest and story campaign. Well, in a collective game up to twenty-four people will converge on the fields of space battles. The developers have significantly improved the quality of the network game and added the possibility of voice communication to it. You can also play together on the same console in split screen mode.
---
GAME INFO
---
Game Name:
Star Wars: Battlefront II
Platform:
PlayStation Portable (PSP)
Developer:
Pandemic Studios