750 games PlayStation Portable



---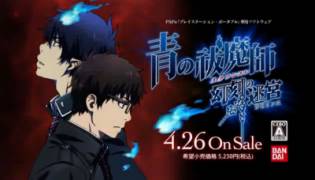 Blue Exorcist: The Phantom Labyrinth of Time
Blue Exorcist: The Phantom Labyrinth of Time is a PSP game published by NAMCO Bandai Games. The game is based on the manga anime Blue Exorcist.
A trailer for the game appeared in April 2012 on the PS Store. Game release April 26, 2012.
Born from a bond between Satan and a mortal woman, Rin and his brother Yukio have to go through great and dangerous adventures. Join the school for exorcists and strengthen the bond between the brothers. Your ultimate goal is to create a world where humans and demons can coexist together.
---
GAME INFO
---
Game Name:
Blue Exorcist: The Phantom Labyrinth of Time
Platform:
PlayStation Portable (PSP)
Developer:
Namco Bandai Games
Publisher:
Namco Bandai Games