750 games PlayStation Portable



---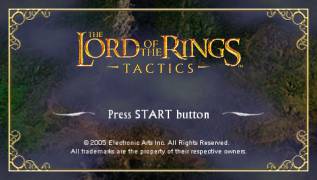 The Lord of the Rings: Tactics
The Lord of the Rings is triumphant across all platforms. Lord of the Rings Tactics reproduces the events of both films and books in the virtual world. Tactical RPG will open the gates to a huge, amazing world of magic and adventure right in the palm of your hand.
The game takes place during the War of the Ring. A desperate journey awaits you into the heart of Mordor, where an infernal cauldron boils in the center of a huge cave. Only by drowning the Ring in boiling magma can peace and tranquility be returned to Middle-earth. But if you are tired of the triumph of good, go over to the ranks of the Sauron troops, lead an expedition to eliminate the Fellowship of the Ring.
The real Middle-earth is waiting for you! Favorite characters and places of interest come to life on your PSP screen, wherever you are.
Whom to support and with whom to fight is up to you. The player is free to go on a journey with the Fellowship of the Ring or lead the Sauron rati, launched on the trail of brave hobbits, humans, gnome and elf.
Lord of the Rings: Tactics isn't called "RPG" for nothing. A detailed system of "pumping" heroes, a large selection of skills, a huge number of spells and weapons will honor any role-playing game.
Hack & Slash is just part of the game. In Lord of the Rings Tactics, you need to not only and not so much monotonously cut monsters as carefully plan your actions. Setting up ambushes, taking fortresses, and defending your own lines will really require tactical thinking.
Create a real Brotherhood! Up to four brave fighters can take part in a collective game via WiFi connection.
Check out the cinema! The missions are preceded by video clips from all episodes of Peter Jackson's The Lord of the Rings film trilogy.
---
GAME INFO
---
Game Name:
The Lord of the Rings: Tactics
Platform:
PlayStation Portable (PSP)
Developer:
Amaze Entertainment
Publisher:
Electronic Arts