750 games PlayStation Portable



---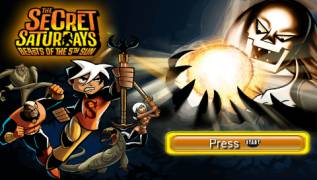 The Secret Saturdays: Beasts of the 5th Sun
The Secret Saturdays, Cartoon Network's popular animated series, has been turned into a game. In The Secret Saturdays: Beasts of the 5th Sun, anyone can join Zack Saturday and other members of his family on an exciting journey in search of secret artifacts and mysterious creatures - cryptids. More than 30 unique cryptids and a whole clique of cartoon-familiar villains are waiting for adventure lovers.
As Zack, Drew, Doc and Doyle, along with their pet cryptids Zon, Komodo and Fiskerton, players will take part in exciting battles. To achieve their goal, the heroes have to overcome 10 levels, ranging from dangerous jungles to underwater cities. During the journey, players will learn a lot about cryptids, adding interesting information to their own Cryptipedia. Ingenious puzzles, encounters with unique animals, battles with Van Rook, Pismil, V.V. Argost and other villains - all this awaits the Saturday family in Secret Saturdays: Beasts of the 5th Sun.
Bright, unusual world. The heroes have to make a journey through 10 levels, having visited the sinister jungle and mysterious sunken cities.
Starring Zack Saturday. As Zack Saturday, players can take on enemies using the Claw as both a weapon and a versatile tool for acrobatic stunts and traversing levels.
Huge selection of characters. The game features over 45 characters that you can control. Among them are the entire Saturdeev family and the cryptids controlled by Zack.
Unique loot. Hunters have to find and get more than three dozen unique cryptids that did not appear in the cartoon.
familiar enemies. The villains familiar from the cartoon will stand in the way of the heroes. Among them are Van Rook, Pismil and V. V. Argost.
Cunning puzzles. To discover hidden paths and find cryptids, you need to solve interesting puzzles.
An exciting story. The plot of the game is based on the events and characters from the first season of the animated series The Secret Saturdays.
---
GAME INFO
---
Game Name:
The Secret Saturdays: Beasts of the 5th Sun
Platform:
PlayStation Portable (PSP)
Developer:
High Voltage Software