750 games PlayStation Portable



---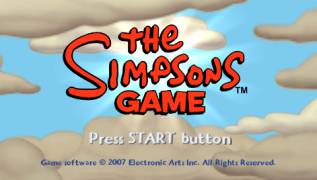 The Simpsons Game
A terrible threat hangs over Springfield and the whole Earth, and only the famous family is able to avert the danger. Homer, Marge, Lisa, Bart and even Maggie must use their newfound power to save their beloved city from the impending chaos. Join the heroes and go through the streets of the world-famous province together with them, defeat the villains and make your way through endless parodies, including modern games. The unique humor, the charm of the Simpsons and the balanced style will make this trip unique.
The legendary Simpson family got into a video game and decided to mock American popular culture in general and the electronic entertainment industry in particular. This is the plot of the new action game The Simpsons from Electronic Arts.
Once on the other side of the monitor, each character has acquired unique abilities that will be used in wild adventures. Homer, for example, sends everything that is badly lying to the stomach, and when the number of calories reaches a critical point, it turns into a giant ball. If you add a chili pepper to the eaten, then the living sphere also heats up, destroying and setting fire to everything. Less well-fed Bart, who became Bartman, is able to plan with the help of a raincoat and shoot passers-by with a slingshot. Lisa and Marge will also be in the fight, but nothing is known about their talents yet.
---
GAME INFO
---
Game Name:
The Simpsons Game
Platform:
PlayStation Portable (PSP)
Developer:
Electronic Arts
Publisher:
Electronic Arts