750 games PlayStation Portable



---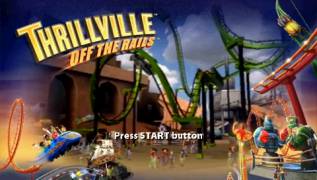 Thrillville: Off the Rails
Everyone loves amusement parks. The roller coaster ride is breathtaking, the clown's crazy antics amuse the crowd, and the numerous rides give the feeling of childhood. The only pity is that the presented entertainment does not always coincide with the desires of visitors. But it's up to you to fix the situation! Build your own rides and thousands of grateful citizens will line up for their portion of happiness. Thrillville: Off the Rails has an easy-to-follow park management system thanks to its easy-to-understand and easy-to-understand economic system, and fun mini-games to take your mind off the management routine.
Each of the fifteen themed "Disneyland" has something to do. You can build crazy roller coasters with an incredible number of loops and great speed - people will squeal with fear and delight! Or you can have fun yourself - there are more than thirty incredible amusements to choose from, each of which makes you laugh to tears. As the director of the establishment, you have the right to chat with any visitor and even play poker. Never before has managing an amusement park been so easy and fun!
The whole park is at your fingertips. You are the owner of entertainment, which means that it is up to you to decide which attractions to install and how to attract even more visitors. It doesn't hurt to ask them about this: you can talk with each guest, ask about his impressions and even offer a game of some kind of entertaining game.
Four thematic zones. Each of the fifteen parks is built in one of four zones. Choose what you like best and go to this territory. Battleville was created specifically for fans of military equipment. Only here you can ride a combat aircraft or shoot at targets. Aeroville flaunts the highest rollercoaster, and Spaceville will appeal to all romantics who love space, stars and distant planets.
Over twenty rides. What can entertain the public better than carousels? Only incredible and crazy carousels - they don't keep others here! Invite guests to race in high-speed cars on an unfinished track, fast jumps straight into the sky to dizzying heights, and more than twenty amazing challenges. Children will be delighted!
Over thirty mini-games. The director also needs rest, a charge of vivacity and a portion of healthy humor. All this can be gleaned from the battles of a Chihuahua dog with beavers, robot boxing, a tank ride and three dozen more exciting mini-games.
---
GAME INFO
---
Game Name:
Thrillville: Off the Rails
Platform:
PlayStation Portable (PSP)
Developer:
Frontier Developments