750 games PlayStation Portable



---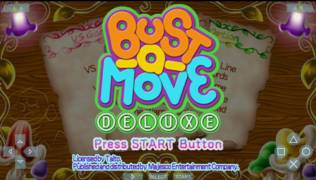 Bust-A-Move Deluxe
Join Bob, Boob and their new friends on new, never-before-seen adventures. You will find a lot of new riddles and puzzles. You can play in several modes - stories, head-to-head and ghost mode. Whether this game will be your first introduction to the series or you are a long-time fan of the game - in any case, you will find more than 1000 different puzzles. Various difficulty levels will satisfy the most varied players.
• New game modes, including Spooktacular Ghost mode.
• Fight your friends using all WiFi connection features.
---
GAME INFO
---
Game Name:
Bust-A-Move Deluxe
Platform:
PlayStation Portable (PSP)
Developer:
Taito Corporation