750 games PlayStation Portable



---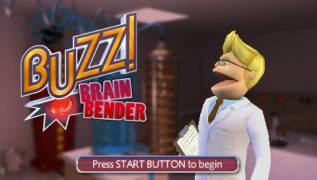 Buzz!: Brain Bender
Project Buzz!: Brain Bender for PSP opened in the Buzz! new direction. You will not find here questions on general erudition; in 12 tasks for a while your observation, memory, analysis and counting will be tested.
The four games of observation require the ability to notice fine details. For example, in Shape Spotter, you need to recognize an object by its silhouette. You will be presented with up to four alternatives to choose from using the PSP system's control buttons. At first, everything is relatively simple: you need to recognize only one silhouette and choose an object from two options, but the tasks will quickly become more complicated, and you will already have to recognize several silhouettes moving across the screen.
Memory games test your ability to memorize shapes and numbers. For example, in Puzzle Pieces you will be shown a puzzle picture, then one piece will be removed from it, and you will have to determine which one. And again, what at first seems like a matter of course will soon become damn complicated as the number of fragments increases.
In analytical games, you will need quick conclusions from the available information and strong logic. So, in the Path Finder, you need to determine which of the four heroes located at different ends of the maze holds the right path to the center. Score games are mostly based on mathematics. For example, in Blot Swot, you will have to identify the missing number or mathematical symbol in the proposed equation.
While tasks range from very easy to extremely difficult, especially in the hard mode, the main challenge in Buzz!: Brain Bender is the countdown. Beating the game for a while adds tension, especially if you're vying for a high score and one of the game's bronze, silver, or gold medals. Speed ​​of fingers is no less important than speed of thought.
One of the great features of the game is the ability to see your progress on a graph. In Training mode, you can complete any of the games at your own pace. All of your scores are saved so you can plot them and see which of the four areas you are strongest in. You can also take the Test, where the games are given in random order and the overall result is displayed at the end. Once you've won enough medals in Training mode, you'll move on to a series of challenges ranging from completing all of the Analysis Games to solving as many Observation Challenges as possible in 20 seconds.
These tasks are the essence of Buzz!: Brain Bender, a fast-paced, addictive game perfect for the PSP. The longest task lasts four minutes, so you can get through several games while waiting for the bus or tram. And the wide range of difficulty levels and the emphasis on progression rather than overachieving the best means it's a game for all ages.
---
GAME INFO
---
Game Name:
Buzz!: Brain Bender
Platform:
PlayStation Portable (PSP)
Developer:
Relentless Software