Atari
Atari is an American video game production and publishing company. Atari had a major impact in establishing the video game industry as a promising economy in the 1970s and held the leading position in the video game market until 1984.
Original Atari, Inc. was founded in 1972 and in a short time became widely known in the video game market. In the late 1970s, Atari, Inc. became the fastest growing company in the US, generating a third of its parent company Warner Communications' revenue. However, after the collapse of the video game industry in 1983, Atari, Inc. was closed in 1984 and divided into several independent companies that never managed to regain market leadership.
Throughout the history of the Atari brand, six different companies have shared the name: Atari, Inc. (1972-1984), Atari Corporation (1984-1996), Atari Games (1984-2003), Atari Interactive (founded in 1996, from 1998 to 2000 a subsidiary of Hasbro Interactive, since 2003 a subsidiary of Atari , SA), Atari, Inc. (founded in 2003, a subsidiary of Atari, SA) and Atari, SA (founded in 2003, formerly Infogrames). current owner of the Atari brand.
Story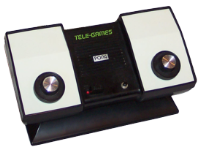 In 1966, at the University of Utah, Nolan Bushnell first saw the game "Space War!". He decided that the game had commercial potential in the form of a coin-operated slot machine, and a few years later he and Ted Dabney worked on a computing device that could be played on a black-and-white TV in single-player mode. mode.player. who had to shoot two UFOs. Hence, this slot machine was launched by Nutting Associates under the name Computer Space. The game was originally installed in the company's market, mainly in bars, with little success. Bushnell felt the game was too difficult for the average (possibly drunk) player and began looking for new ideas.
Bushnell left Nutting Associates to form a new company, Syzygy, with Ted Dabney. They soon hired Allan Alcorn as their first design engineer. The first game was supposed to be a car game, but this idea seemed too complicated. In May 1972, Nolan saw a demonstration of the Magnavox Odyssey, which included a tennis-like game. He decided that Allan should develop an arcade version of this game, which would be called Pong.
As the company prepared to go public in June of that year, it was revealed that the name Syzygy (syzygy, an astronomical term) already existed in California. Bushnell wrote several terms from the game of Go and eventually chose the Japanese word atari, which in the context of Go means a stone or group of stones that can be captured by an opponent. Also, the name Atari is certainly much more memorable and easier to pronounce than Syzygy. Atari became a public company on June 27, 1972 in California.
Atari Inc.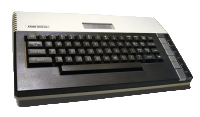 In November 1972, the first Pong was ready. It consisted of a black-and-white TV, special equipment that implemented the game, and a coin mechanism, which included a milk carton into which coins fell. For testing, the machine was installed in one of the pubs in the city of Grass Valley (California), and it soon became clear that the game became a hit. After unsuccessful negotiations with several companies to release Pong, Bushnell and Dabney decided to release the game in-house, and Atari Inc. was founded. as a developer and manufacturer of coin-operated slot machines.
In 1974, Atari released the Touch Me electronic game.
In the 1970s, Atari employed Steve Jobs, who later co-founded Apple with Steve Wozniak.
In 1975, Atari acquired Cyan Engineering to develop the next generation gaming system (Project Stella) based on the newly released MOS Technology 6502 microprocessor.
Bushnell realized in 1976 that the console he was working on had potential success, but significant funds would be needed to bring it to market. So he sold Atari to Warner Communications for $28 million. In October 1977, a game console was released under the name Atari Video Computer System. Bushnell left Atari in 1979.
Division Warner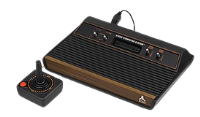 In 1977, Atari began selling the Atari VCS (Video Computer System) game console, which could modify games because it used cartridges. The console was later renamed the Atari 2600. This console became the leading video game console in the US for several years.
Immediately after the release of the Atari VCS, Atari engineers began work on a new system that was to replace the 2600 by 1979. In February 1978, Ray Kassar was appointed director of Atari, who wanted Atari's new machine to compete with Apple in the home computer market. At the time, the home computer market was split between the Apple II, Commodore PET, and TRS-80.
In 1979, Atari began selling the Atari 400 and Atari 800 8-bit home computers. The Atari 400 positioned itself as a game console with computer capabilities, the Atari 800 as a complete computer with game console capabilities.
Competition intensified in the game console market - in 1982, ColecoVision was released, for which an expansion module was released that allowed games to be run on Atari 2600 cartridges.
In 1982, Atari releases the Atari 5200 game console, based on the hardware design of the Atari 400/800, but not compatible with them. Sales of the 5200 were not particularly successful. Although the console's graphical capabilities were much better than those of the 2600, the game library available was significantly smaller.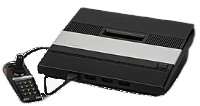 As part of Warner, Atari has sold millions of game consoles and home computers. At its peak, Atari provided a third of Warner's annual revenue and became the fastest growing company in the North American market at the time. But within Atari itself, there was considerable tension: the three divisions - arcades, consumer games, and home computing - worked separately, had little to no interaction with each other, and even saw each other as a threat.
In 1982, Atari began selling two games in the 2600 series that were hyped but disappointing: Pac-Man and ET Extraterrestrial. Sales declined rapidly, leading to increased unsold stock in stores, lower prices, and returns from stores to the supplier, leading to the famous case of unsold cartridges being destroyed.
In 1983, a price war broke out in the home computer market, started by Jack Tramiel of Commodore; Atari had to cut prices to maintain its market share. In addition, in 1983, a crisis broke out in the computer games market. In an attempt to cut costs, Atari moved its production lines to Taiwan.
The events of 1982-1983 had a significant impact on revenue, and Atari became a loss-making division of Warner Communications. Warner shares fell from $60 to $20 a share. Texas Instruments exited the home computer market in November 1983, and many thought that Atari would be next. As a result, in 1984 Warner sold Atari computer and game consoles to Jack Tramiel, who was fired from Commodore, which he founded. Tramiel wanted to compete with Commodore with Atari. The combined company is called Atari Corporation. Warner still has a division that produces video games under the Atari Games brand.
Atari Corporation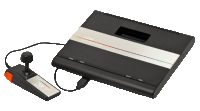 Jack Tramel decided to focus on the production of computers. Atari released XE series computers compatible with the 400 and 800 models. As a result, the company began to lose the game console market.
In 1985, Atari releases the Atari ST 16-bit personal computer.
In 1986, two game consoles developed two years earlier, the Atari 7800 and Atari 2600 Jr, enter the market. The 7800 system had an extensive base of games and could compete with the NES console in terms of its technical characteristics. Atari 2600 Jr. had a low price for those times and was aimed at those who could not afford to buy Japanese gaming systems.
In 1987, the company released the Atari XEGS, a game console based on and fully compatible with the 65XE computer, but sales were not particularly successful.
In 1989, the Atari Lynx handheld game console was released. Its success was not very great as the popularity of the Nintendo Game Boy increased around the same time. The prefix lasted on the market for two years, after which it was replaced by a newer version: Atari Lynx II.
In 1992, the Atari Falcon 32-bit personal computer was released. In 1993, he released the Atari Jaguar game console. However, these products did not become popular. In 1996, after a string of successful lawsuits, Atari was left with millions of accounts but no products to sell. Tramiel and his family tried to get out of this business: in July 1996, Atari merged with JTS Inc. and formed JTS Corp. In March 1998, JTS sold the Atari brand and related businesses to Hasbro Interactive for $5 million.
Atari Games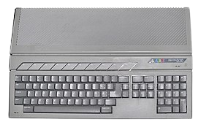 During the 1983 crisis, Atari Coin's arcade division was the only part of Atari that was still profitable. In 1984, Warner sold the Ataris game console and home computer parts to Jack Tramel, but kept Atari Coin and renamed it Atari Games.
Atari Games continued to produce arcade machines, and from 1987 also NES game cartridges under the Tengen brand.
From February to April 1989, Atari Games lost the competition to Nintendo, the market leader in computer games, for the exclusive right to distribute the most popular game in the USSR, Tetris, on video consoles and portable gaming devices. Litigation on this issue in 1990 was also lost. This caused significant damage to the company (it had already developed its own version of the game, produced about 500,000 copies and had a powerful advertising campaign to market it).
Atari SA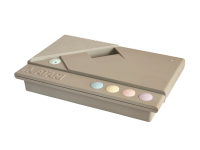 In 1989, Warner Communications merged with Time Inc. and formed the Time Warner Company. In 1993, Time Warner bought a majority stake in Atari Games and made the company part of its Time Warner Interactive division. In mid-1994, Atari Games, Tengen, and Time Warner Interactive Group were merged under the name Time Warner Interactive.
In October 2001, the French company Infogrames Entertainment, SA acquired Hasbro Interactive, and with it the Atari trademark and related intellectual property. In May 2003, Infogrames was renamed Atari, SA. As of March 24, 2008, Atari, Inc. was listed on the NASDAQ, but Infogrames bought back all remaining public shares.
On January 20, 2013, Atari's American divisions (Atari Inc., Atari Interactive Inc., Humongous, Inc., and California US Holdings, Inc.) filed for bankruptcy in order to spin off from their parent company, European Atari SA. All of these companies came out of bankruptcy a year later and formed the Atari casino.
Prefixes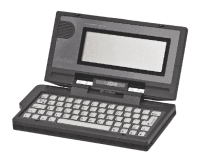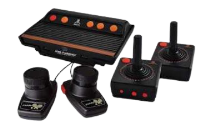 Pong
Atari 1020
Atari 1050
Atari 2600
Atari 400/800/800XL
Atari 65XE
Atari 130XE
Atari 5200
Atari 7800
Atari XEGS
Atari Lynx
Atari Jaguar
Atari ST, Atari STE
Atari MEGA ST, Atari MEGA STE
Atari TT
Atari Falcon
Atari Transputer Workstation
Atari Portfolio
Atari Flashback
Atari Flashback 2