33 games Capcom Play System 1



---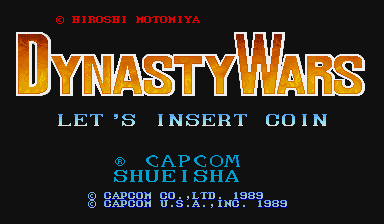 Dynasty Wars
Dynasty War is a side-scrolling beat 'em up arcade game released in 1989 by Kapcom, based on the Japanese manga Tenchi Mount Kurau and a reenactment of the battle between the kingdom of Shu and the yellow turban rebels. Each of the two players can take on the role of one of four Chinese generals on horseback from the Three Kingdoms period in an attempt to crush the rebellion.
The players goal is to destroy the Huang Jing, the organizations responsible for the Han Dynasty unrest and the later defeat of the tyrant Dong Zhuo, and up to two players can fight side by side to achieve this goal. This game always scrolls to the right. Players must be able to survive the rebel hordes in order to reach and kill the rebel general in each stage to liberate the province.
Players can use three buttons: attack left, attack right, or use special tactics. In the arcade version, inserting more coins and pressing START increases the player's maximum life. In RPG style, completing stages and collecting yellow orbs will increase the player's experience points in order to raise his level, where he gains more vitality and use more powerful weapons. This weapon is updated for every 3rd blue orb collected. In the game, treasure increases the player's score, and food kits replenish vitality.
There are 4 selectable characters, each with their own variable amount of attack power and initial vitality. In addition to unique weapons, each character also has a unique partner character during a certain special attack. For every 3 blue orbs collected, the player's weapon improves, depending on their current range level.
There are a total of eight stages (called rounds) corresponding to the provinces in relation to the historical battles in the novel.
---
GAME INFO
---
Platform:
Capcom Play System 1 (CPS1)
Genre:
Fights - one against all