24 games Virtual Boy



---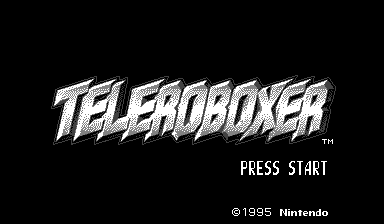 Teleroboxer
Pretty fun boxing between two robots. The view "from the eyes" turns this game into a kind of simulator that you can start at the end of a hard day's work and knead the anger on your opponent, who can be an evil boss.
During the battle, after savory blows, all sorts of spare parts fly off the characters.
The game under the loud name Teleroboxer is, as it is logical to assume, boxing "with a first-person view". You can watch your own and other people's hands, as well as the brutal mug of the enemy. The battle process looks terribly realistic - you really want to jump back from the screen in order to "avoid" the blow. And the design of the opponents could be interesting if the game was done in normal colors. But the game play is primitive, and it is very difficult to endure it for more than ten minutes.
And the prehistory of the game is as follows: in the 22nd century, Telerobot technology began to be widely used. Technologically impeccable creations of their metal repeated all the movements of the body of their owner, and they could be successfully used wherever a person has a hard time. To increase interest in this technology, Edward Maki Jr. comes up with telerobotics - boxing matches between robots that are remotely controlled by human players.
---
GAME INFO
---
Platform:
Virtual Boy (VBOY)
Genre:
Fights - in private