24 games Virtual Boy



---
Cheats, Passwords, Secrets, Game Tips - Galactic Pinball - Virtual Boy (VBOY)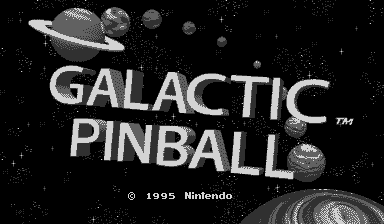 Samus Mini-game: Hit the ball to the top right side of the Cosmic level. Start the "Bumper Clash" sequence and hit all the bumpers to start the Samus mini-game. The S symbol from Super Metroid will appear in place of the bumpers and the phrase "Let's Go, Samus" will sound. The ball will then turn into a ship and you will begin to shoot down the metrids, with music from the game Super Metroid in the background.
Skull Bonus: Choose a UFO board. Hit the ball in all 4 lanes at the top to get the bumper bonus. Now hit the middle bumper with the ball to reveal the skull. For hitting him in the mouth, they give 2 million points. Get 9 million points by hitting three times in a row!
Upon reaching 50 million points, at the end of the round you will see all the authors against the background of the remixed version of the melody playing on the title screen.