24 games Virtual Boy



---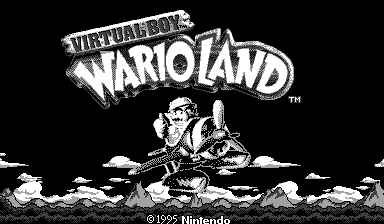 Virtual Boy Wario Land
The best game on the Virtual Boy with great graphics, amazing 3D effects and polished gameplay. In addition, this is the best Wario Land ever released on low-bit systems.
Wario can crawl, catapult into the background, transform into different creatures with all sorts of abilities and much more! The levels are very beautiful and interesting, the enemies are also full of variety, and the action itself is so attractive that it does not let go for a minute.
It was because of this game that many bought a Virtual Boy for themselves and for the sake of great fun spoiled their eyes for hours on end!
Wario has an interesting story that he wants to tell us.
"One day during my vacation in the Awazon River basin, I landed my trusty Bulldog seaplane and decided to rest in the shade of the beautiful Aldegara Falls. While sunbathing, I noticed some masked creatures entering the falls. I rushed after them. Behind the falls , there was a large cave, at the end of which I discovered a mountain of innumerable treasures!
Several masked creatures rushed at me, but I fought back and began to collect treasures. Suddenly the floor beneath me collapsed and I fell very deep. Cursing these creatures in the mask, I vowed to get this treasure!
---
GAME INFO
---
Game Name:
Virtual Boy Wario Land
Platform:
Virtual Boy (VBOY)