24 games Virtual Boy



---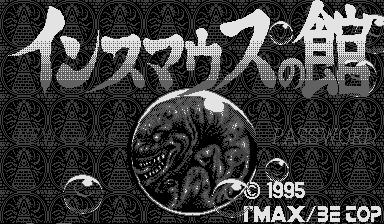 Insane Mouse Mansion
Insane Mouse Mansion is a 3D shooter based on a low-budget Japanese movie based on HP Lovecraft's book Innsmouse, about the mist-shrouded town of Insmouth.
The gameplay is as follows: you need to find a way out of the labyrinth of corridors in the allotted time, along the way shooting monsters that come across on the way. For this purpose, the hero is endowed with a pistol and a limited supply of cartridges (which, however, are arranged in the required amount by levels). In addition, you need to take care of replenishing your health, look for keys to exit the labyrinth and collect white and black balls. There are 13 levels to visit in total. There are four different endings to the game, depending on how well you get through the mazes.
From a graphical point of view, the game looks very weak. The rooms are not three-dimensional (the hero advances by turning 90 degrees), the monsters look stupid and ridiculous. However, a good concept, atmosphere and, in some places, "funny" sound effects bring the game to a fairly high level. A US version has not been released.
---
GAME INFO
---
Game Name:
Insane Mouse Mansion
Platform:
Virtual Boy (VBOY)
Genre:
Shooter game from the first person