24 games Virtual Boy



---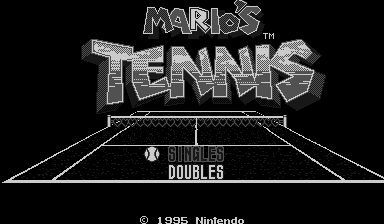 Mario
Mario, Yoshi, and other residents of Nintendo World decided to take up tennis. You will not experience such a sense of space in any other game. I often caught myself turning my head, hoping to see the ball flying off the field.
Mario's Tennis was originally intended to be played with two players via VB's Playlink Cable, however this feature has been disabled.
As a rule, sports games from Nintendo with the participation of "star" characters are very good. Well, at least - filled with kindness and fun. So this tennis came out very high quality and playable. This is something between classic tennis simulators on eight-byte consoles and the "fancy" game Mario Tennis on the Nintendo 64. The whole point is that, thanks to three-dimensionality, the ball's flight path is clearly visible; you see him coming and get ready to hit - it's fun, trust me.
---
GAME INFO
---
Platform:
Virtual Boy (VBOY)