24 games Virtual Boy



---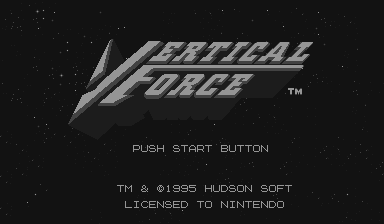 Vertical Force
Mankind prospered in a way that the first space explorers could not imagine. Waves of human colonists have settled thousands of planets throughout the universe. Each colony was equipped with an overseer computer and an Industrial Unmanned Android that controlled the planet and resource extraction. Everything that was mined from the mines was sent to Earth.
However, everything went wrong. Overseer computer Odin from planet #0326 spontaneously reprogrammed itself. The new mission is to destroy people and extract minerals from the Earth.
The malfunctioning Overseer, calling himself "Mittgard" (Mittgard), declared war on all mankind. His mechanical army of "AI Drones" are heading towards Earth. Equipped with a special beam, they deactivated the computers of the United Earth Army flotilla, and wherever the Army tried to intercept the enemy, they suffered a crushing defeat.
Luckily, a team of xeno archeologists working on the planet Ragnarok (Ragnarok - planet #1562) found something unusual. A war machine was unearthed in the ruins of an alien civilization. Due to a different structure, the Mittgard beam did not affect her. And best of all, the machine could reprogram some of the Unmanned Aircraft and use them against Mittgard's forces. Now only you - the number one pilot - are the only hope of the Earth.
---
GAME INFO
---
Game Name:
Vertical Force
Platform:
Virtual Boy (VBOY)
Publisher:
Hudson Soft, Nintendo