24 games Virtual Boy



---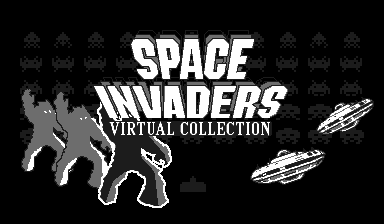 Space Invaders - Virtual Collection
The Japanese company Taito, around 1978, realized that the idea of ​​shooting aliens is very funny and exciting. Immediately created a game that is called Space Invaders. Later it became a classic of its genre. The plot is utterly simple. Waves of aliens attack the Earth, descending lower and lower. Once they reach the surface, we're in trouble. Moving the laser installation, it is necessary to repulse all their attacks. The game has no end, so whoever gets the most points is the best.
For more than 30 years of history, Space Invaders has visited every self-respecting gaming platform, acquired dozens of clones, had several "official" sequels and left a bright mark on gaming history.
The game is known to have been released in Japan only on December 1, 1995 for a price of 4,980 yen.
However, almost all the inscriptions in the game are made in English, so there will be no problems with the game. Although - what do you need to know to play Space Invaders? During the game, even on the emulator, you involuntarily notice that the game draws you into a three-dimensional world! I urgently need 3D glasses!
---
GAME INFO
---
Game Name:
Space Invaders - Virtual Collection
Platform:
Virtual Boy (VBOY)