91 games WonderSwan Color



---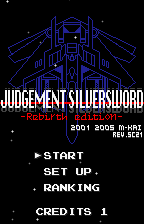 Judgement Silversword - Rebirth Edition
Judgment Silversword is the winner of the 2001 WonderWitch game design competition. It was originally released in 2004. Designed for the color of WonderSwan, Judgment Silversword has the unique distinction of being one of the few shooting games designed for a handheld console. also one of the best! Destroying enemies as quickly as possible is essential to winning the Proper Silver Sword, giving the game a relentless pace. One of the first games by indie developer M-KAI, it can be seen as an inspiration and a forerunner of Eschatos' gameplay ideas.
Cardinal Sins introduces an interesting twist on Shoot 'Em gameplay with a Trial Marathon spanning 7 different areas, each with a unique objective themed around the 7 Deadly Sins. Gather life in Sloth, store enemy data in Greed, and avoid Destruction at the hands of Wrath. Mastering the different objectives gives the game a great sense of variety. Getting the S rank in every challenge is very difficult!
Key Features:
- Two different games! Includes both Judgment Silver Sword and its sequel, Cardinal Sins.
- Relentless gameplay. Use your three weapons effectively to rack up a high multiplier. However, your multiplier will drop quickly, so take out the enemies as fast as you can!
- Diverse challenges and a deep scoring system create significant replay value.
- A faithful port of hard-to-find WonderSwan Color games.
- Look where the legend began! Play the games that inspired Eschatos.
- Steam achievements are supported.
---
GAME INFO
---
Game Name:
Judgement Silversword - Rebirth Edition
Platform:
WonderSwan Color (WSC)