91 games WonderSwan Color



---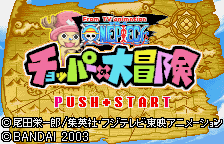 From TV Animation - One Piece - Chopper no Daibouken
One Piece: Chopper no Daibouken is a role-playing game developed by TOSE and published by Bandai that was released in Japan in 2003.
---
GAME INFO
---
Game Name:
From TV Animation - One Piece - Chopper no Daibouken
Platform:
WonderSwan Color (WSC)
Genre:
Action RPG, playing for the deer that got lost. There are mini levels where we skip forward and jump over obstacles.