750 games PlayStation Portable



---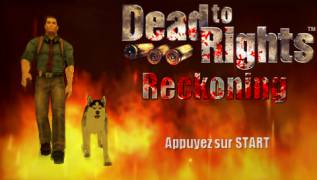 Dead to Rights: Reckoning
Jack Slate has always been the right cop. The language of lead and a strong blow has long since replaced formal justice for him. Where even the feds gave in to the all-powerful mafia, the determined policeman did not know defeat. But in the hornet's nest of crime again restless. Secret documents fell into the hands of the criminal leader of Grant City - the bloodthirsty Whisper. Circumstances force Jack to remember the rules of gunfire negotiation.
For the first time, the acclaimed action movie Dead to Right comes out on a portable console. A new exciting story is woven into a single plot of the series. The cinematography of Hollywood action films, the indescribable spirit of martial arts, detailed graphics and high-quality surround sound use the full potential of PSP today.
- The K-9 unit is on guard again! The faithful dog Shadow returns to help his partner in the upcoming fight. The four-legged officer boldly rushes into battle, effectively disarms and intimidates enemies of any size.
- Maximum quality - minimum size. Dead to Rіghts: Reckoning is a clear demonstration of the enormous potential of Sony PlayStation Portable. In addition to great video, audio and design solutions, a breakthrough has also been made in artificial intelligence. Enjoy a computer-grade project on a palm-sized console!
- Feel at ease! Fresh story, additional equipment, weapons and new abilities of the hero are original, but made in the style of the original Dead to Rights.
- Full screen mode will help in combat. A widescreen image will better reflect the surroundings and prevent enemies from sneaking up from the side.
- One Jack is good, but two is better. Grant City is a big city and there are a lot of criminals in it. Team up with your friends and establish a new city order in Deathmatch mode. Wi-Fi wireless technology is used to connect the consoles.
---
GAME INFO
---
Game Name:
Dead to Rights: Reckoning
Platform:
PlayStation Portable (PSP)