750 games PlayStation Portable



---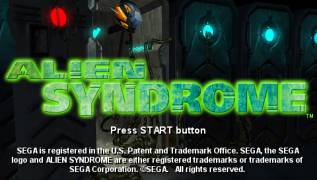 Alien Syndrome
Gone are the days when thousands of nuclear warheads and a huge military space fleet were responsible for the security of the planet. Now, new troops are coping with any threat - genetically modified people, each of which is able to stand alone against an entire army of alien invaders. The main character of Alien Syndrome, the brave warrior Eileen Harding is one of these superhumans. It is she who will repel a crushing attack from deep space. Alien Syndrome is a fast paced tactical and strategy action game designed exclusively for the PSP. You have a dangerous trip to the aliens' lair in order to neutralize the enemies before landing on Earth. Spaceships teeming with disgusting creatures, abandoned human colonies and distant planets will hospitably open their doors to Eileen, but hardly let her out of the trap.
All tasks are unique! At the beginning of each episode, Eileen chooses the weapons and equipment needed for the given operation. Tasks are very different from each other, so competent equipment is of paramount importance.
Arsenal of universal scale! Behind Eileen's deceptively fragile appearance is a real soldier without fear or reproach. She is proficient with twenty types of weapons, including flamethrowers, multi-barreled laser rifles, biocannons and incendiary grenades.
Shoot smart! Each type of weapon has its own advantages and disadvantages. The effectiveness of its use is also influenced by the personal skills of the heroine. Properly choosing an arsenal, you can easily deal with uninvited guests from another galaxy!
The platoon has a better chance! If you can't cope with alien monsters alone, call your comrades. In the fight against the aggressors, four fighters can join forces at the same time.
---
GAME INFO
---
Game Name:
Alien Syndrome
Platform:
PlayStation Portable (PSP)