750 games PlayStation Portable



---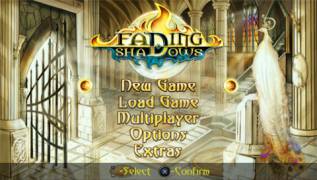 Fading Shadows
The world's evil set in motion, and the Great Gardal built a diabolical plan. With the help of his loyal followers Quip and Morg, he intends to conquer the Castle in the Sky, the last stronghold built to protect the world from the forces of evil. The only way for Gardal to open the gates of the Castle is the sacrifice of the innocent soul of Erwin, the young boy mentioned in an ancient prophecy. Gardal and his henchmen had already captured the boy and imprisoned him in a dungeon where he awaited execution.
But Gerdal did not take into account the fact that Aira, Erwin's clairvoyant sister, would rush to his aid. To save her brother, Aira imprisoned Erwin's soul in a crystal tear and covered it with a protective sphere. The only way for Aira to free her brother is to deliver the orb to the Sky Castle using a magic beam. Unfortunately, the creation of the beam has exhausted all her strength, and she is no longer able to control it... Can you help her?
Take control of the beam and guide the sphere through an exciting world of danger and adventure. It won't be easy, as Gardala's henchmen Kuip and Mogr will try to stop you at all costs. Avoid Quip's traps by solving riddles and puzzles set to delay you. Cross swamps and mountains, make your way through castles and abandoned cities. To overcome obstacles in your path, turn the sphere into a wooden one to float in water, and into a metal one when hardness is needed. Do your best to save Erwin and return him to Sky Castle.
---
GAME INFO
---
Game Name:
Fading Shadows
Platform:
PlayStation Portable (PSP)