750 games PlayStation Portable



---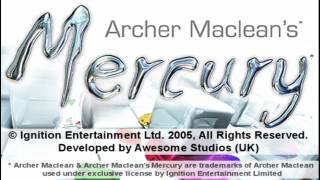 Archer Maclean's Mercury
Mercury is a unique new generation game with excellent physics and addictive gameplay. The main character of Mercury is a small ball of mercury, which must be led to the exit, bypassing various obstacles and solving non-trivial tasks.
By tilting the game card, you can move the ball in the direction you want. To achieve the result, it is necessary not only to lead the ball to the exit, but also to solve several tasks of opening passages, repainting the substance, and also meet the time allotted for the mission. Thanks to all this, the gameplay is very exciting.
Those who like to strain their brains are recommended.
---
GAME INFO
---
Game Name:
Archer Maclean's Mercury
Platform:
PlayStation Portable (PSP)
Developer:
Awesome Studios