750 games PlayStation Portable



---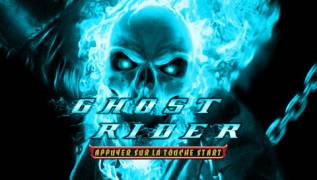 Ghost Rider
Some meetings should never take place, just as some words should never leave your lips. Otherwise, it will be difficult to prove later that you did not make a deal. Professional racing driver Johnny Blaze promised to give his soul for his father's life. In return for fulfilling his wish, Satan turned Johnny into his ghost-killer, doomed for centuries to ride a hellish motorcycle and fulfill the orders of Darkness!
Based on the Marvel comics, the story of Ghost Rider is about a rider cursed by Mephistopheles himself. But, despite the pact concluded with darkness, Johnny Blaze is in no hurry to part with his inner self. Instead of eliminating people objectionable to hell, the Ghost Rider starts a war with Evil itself! One by one, the servants of the Devil disappear, Johnny gets closer to the one who doomed him to unbearable torment, the fire of revenge burns brighter in him! But what will happen when the long-awaited meeting finally takes place?
History that conquered the world! First published in 1972, Ghost Rider comics have sold forty-five million copies worldwide! Interest in the Ghost Rider does not fade to this day! Since 2005, writer Garth Ennis and artist Clayton Crane have been engaged in the continuation of the famous comic book, and Sony Pictures recently released the film of the same name.
Without mercy! You should not feel sorry for those who once already fell into hell. Give them a deadly carnage with a chain and a rifle of bright flame! Only in this way can Lucifer's servants be sent back into oblivion.
Gift of Satan! Ghost bike has powerful powers that will help in the difficult war. He rides on water and soars into the air with the lightness of a demon of fire and steel. The generous gift of Darkness will turn against itself!
Road to Hell! The path of the ghost rider leads him to hell, where the most fierce fights will take place. But until then, Johnny has business upstairs. You will visit famous places from the film, including Quentin Carnival and Caretaker's Graveyard, as well as ride with the breeze on the wall of a huge skyscraper.
Forces are growing! Upgrade your bike and fire chain, learn new deadly moves, and train your Racer.
Pleasant surprises. There are a lot of interesting little things hidden in the game. Thematic drawings, secret characters, interviews with developers will help you feel the atmosphere of Ghost Rider
Ghost Rider is in safe hands! The developers have several proven hits behind them. Climax has proven its expertise with ATV Offroad Fury 3, Sudeki and MotoGP: Ultimate Racing Technology.
Only on PSP! Especially for the pocket console created new levels, bosses and entire game modes. With the help of wireless Wi-Fi technology, you can compete with three live opponents and take part in a collective race on hellish motorcycles!
---
GAME INFO
---
Platform:
PlayStation Portable (PSP)