750 games PlayStation Portable



---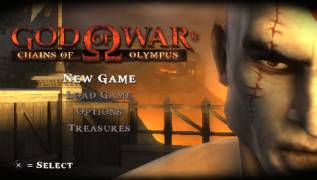 God of War: Chains of Olympus
The story of Kratos - a merciless Spartan and an invincible fighter - continues! This time the hero performs feats on the Sony PSP console. In a futile attempt to atone for past sins, he sacrificed himself to the gods and became their hero to fight in the name of Olympus. Tales of his destructive campaigns remained in the memory of descendants forever.
In the new episode of the famous God of War series, Kratos faces the most dangerous and incredible trials. He will go where no mortal has ever set foot before. The world plunges into eternal darkness, the celestials lose their former strength and power, only the legendary son of Sparta can prevent a catastrophe. He will have to come face to face with the most terrible creatures of Greek mythology and, ultimately, choose between his own freedom and the salvation of the world. Perhaps you know how a blood-drunk hero will act?
epic scenes. This you have not seen before! God of War: Chains of Olympus shows what the PSP is capable of. In keeping with the tradition of the series, you will find incredible camera angles, dramatic sequences and impressive scale of action. Feel like a real hero!
History of the legendary warrior. God of War: Chains of Olympus builds on the events of the original game. Who was Kratos before, and who did he turn into after ten years of serving the gods? Did he end slavery or become a pawn in someone else's hands? You will be able to find answers to these and other exciting questions.
New tricks. Kratos is still ruthless in battle: his sword is relentless and asks for one thing - blood. Check out new tricks and movements that will help you survive in the most difficult situation. But do not forget about the old tricks - they are still in force.
Ancient Hellas. From the Gates of Hades to the depths of Tartarus, travel through the dark and incredibly dangerous world of Ancient Greece. Kratos is waiting for the dark creatures of Hellenic mythology, among which there are truly huge monsters. Their clash with the warrior will turn into a bloody fight.
Lots of mysteries. The ancient world holds many secrets. To get to the end of the saga, you'll have to unravel a series of puzzles neatly woven into an epic story.
---
GAME INFO
---
Game Name:
God of War: Chains of Olympus
Platform:
PlayStation Portable (PSP)
Publisher:
SCEA/SCEE/SCEI