750 games PlayStation Portable



---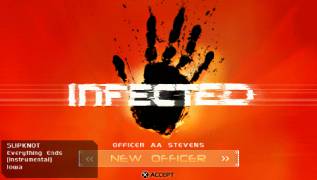 Infected
It's Christmas in New York. A strange virus has spread throughout the city, turning normal people into insane and violent Infected. Officer Stevens is one of the first victims of the virus, but unlike the others, he does not lose control of himself. A mysterious doctor decides to use Stevens' immunity to fight the Infected. Help Officer Stevens deal with the virus - or form your own clan with your friends and infect enemy PSPs!
Game features:
- Hurricane zombie action on the streets of New York;
- Earn points on chains of killing zombies and cover the streets with blood;
- Classic network modes - Deathmatch and Team Deathmatch;
- Create clans and infect enemy PSPs in a special network mode;
- An exciting storyline with a fair amount of humor and interesting characters;
- A real arsenal of weapons will not allow a single zombie to leave alive.
---
GAME INFO
---
Platform:
PlayStation Portable (PSP)
Developer:
Planet Moon Studios
Publisher:
Majesco Entertainment